With the recent uptick in Bloodborne merch, most notably that drop-dead gorgeous vinyl, it made me think back to just how deliriously wonderful Bloodborne was. Released back in 2015 as a fateful collaboration between From Software and Sony, Bloodborne shattered expectations and left quite an impression. It's not related to Dark Souls, easter eggs notwithstanding, but a completely new vision by legendary director Hidetaka Miyazaki. It had its own world, mythos, creatures, dazzling weapons and a distinct fashion sense; looking at you Fashion Souls crowd. What made Bloodborne such a landmark title? What did it do that cemented itself as not only one of the best PS4 exclusives of it's generation but one of the best games ever made? Let us grant you eyes and dive deep into what made Bloodborne such a timeless and spectacular experience.

Let us begin with the soundtrack.

2015 brought along with it a slew of incredible games with outstanding soundtracks. The Witcher 3 had an excellent soundtrack; shoutout to Silver for Monsters for being such a hard-hitting epic track. I still get chills listening to it. Fallout 4 gave us a memorable soundtrack with Ella Fitzgerald and The Ink Spots but how can we not acknowledge the main theme, a sprawling iteration of the original theme. Halo 5 and Rise of the Tomb Raider also had exceptional soundtracks. Bloodborne burst onto the scene with an epic, gothic orchestral masterpiece that almost enshrouds you in it's gritty, hopeless atmosphere.
The music of Bloodborne is as appropriately melancholy and menacing as the actual game. Tracks like The Hunter's Dream is a stark far cry from the hair-raising, anxiety-filled Cleric Beast track. The soft strings and even softer vocals in Hunter's Dream almost lull you to sleep, you feel safe and yet you never are and you never will. The Hunter theme is my personal favorite track of Bloodborne. It is relentless, powerful and dangerous just like the boss fight it is associated with.
The Hunter theme comes roaring in during the Father Gascoigne fight, admittedly one of the best fights in Bloodborne and you're greeted with it very early on. If you get the timing just right, you might just trigger the second half of the track perfectly in time for Father Gascoigne's second form and it becomes a glorious, heart-attack inducing battle for your life as the chorus continuously roars; almost as if teasing your every move. It is now panic mode and Father Gascoigne has a new bag of tricks and you're not ready for it. It's such a brilliant marriage of music and gameplay that just comes together so meticulously that once the fight is over you're almost disappointed it had to end.
One of the best Bloodborne tracks isn't even in the main game. During the DLC The Old Hunters, you encounter and fight the long-awaited Ludwig. It's a significant moment for the lore as you've been likely wielding Ludwig's Holy Blade during the main story and now here you are face to face with him, or rather it. This is yet another boss fight with a second phase and with that second phase comes another piece of epic music to accompany it. The second phase of the track is so very much Bloodborne, gothic tones all over the place, sprawling and boy is it relentless.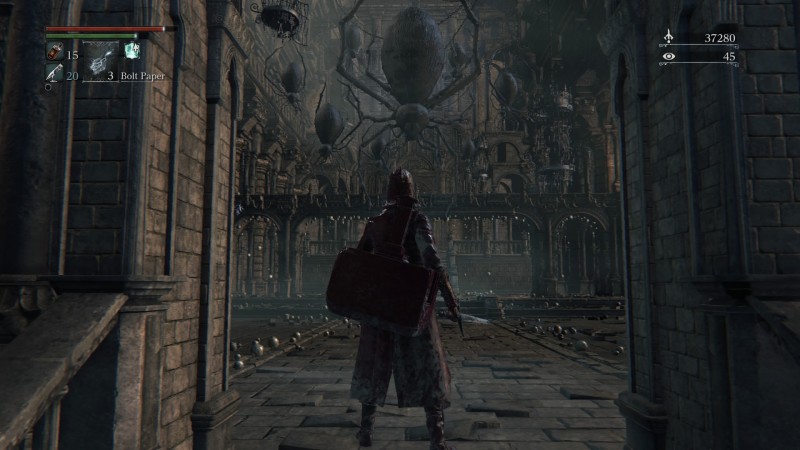 Bloodborne's art direction is simply impeccable. Lurking through the dimly lit, cobblestone alley ways as the moon shimmers and cracks through the various cathedrals and abandoned dwellings. It is truly a sight to behold and such sight is rife with curdling cries of nearby beasts or strange cackles from a nearby house. Bloodborne's fictional city of Yharnam is almost a character itself. We get to know it's tendencies, we become intimate with it's inhabitants, and we are constantly fighting against it. It's one of the most disturbing settings I've ever got to play in any game. Every time I turned a corner in Yharnam and discovered an abandoned baby carriage, it literally sent chills down my spine.
This is a world unlike any From Software setting. Lordran from Dark Souls is a treacherous place teeming with mad knights and ferocious demons but it's also nice looking. It has a lush, beautiful forest and rolling hills. Even Sekiro, in which damn near everything in the game wants to kill you, is set in a breath-taking feudal Japan setting. Ice capped mountains and cherry blossoms litter this vast, colorful world. Yharnam is unapologetically dirty, it's grime is indulgent and one could even smell the stench of rotten meat and dried up blood. If there was ever a VR game based on any From Software property, it would have to be Bloodborne. Imagine stepping into the Upper Cathedral Ward? It would surely rival some of the scarier moments in Resident Evil 7. Or Fishing Hamlet? That would be quite the trip. I wouldn't want to fall into that well in VR.
Bloodborne's combat is a masterclass in subverting fan expectations while also keeping true to it's roots. Yes, you still have your healing consumables like in Demon's Souls but you could also heal yourself by simply fighting back. This system, the regain system, was a neat wrinkle to the combat flow. You were no longer afraid to get too close or cower behind your shield picking your spots, Bloodborne encouraged you to get dirty and get in that enemy's face. Aggression was rewarded. The parry system was also a neat little wrinkle. What was more satisfying than popping off a gunshot at the perfect time for a stagger? Few gaming sounds are more euphoric than that. Add to that a generous assortment of Caryll runes and Blood Gems and you could potentially be earning more for fighting aggressively than ever before, and I did. Quite a bit I did. Oh how I enjoyed that.
The overarching story of Bloodborne is your typical From Software fare but the inclusion of Yharnam and the history behind it's Blood Healing practices gives it a distinct feel to it. While other writers on staff have mentioned its masterful atmosphere of cosmic horror, for me, the best story bits in Bloodborne come from totally missable side quest stories. For example, the story of the little girl in Yharnam. This poor little and her sister have locked themselves up in their home desperately waiting for their parents to come back but neither has returned. It's getting late and the nightly hunt is already underway. Beasts are lurking the streets. As you interact with the child, you can offer sympathy and even a word of encouragement but you have to be careful with what you say because this little girl's fate is a grisly one. The brilliance of this short side quest is that you never really get to see this little Yharnam girl. You speak to her only from outside her front door like many of the Yharnam residents. She gives you clues as to her mother's whereabouts and things to look out for like her Red Brooch. And so you embark on this little adventure trying to find her parents but then again this is Bloodborne and nothing ever ends well.
It turns out her dad is Father Gascoigne and during his madness, he murders the mom. On one of the rooftops in the graveyard where you find and fight Father Gascoigne, you can find a corpse with a Red Brooch, further unraveling this unfortunate tale. The daughter also gives you a Music Toy Box because she says it calms her dad down. Bloodborne allows you to use this narrative tool, both figuratively and literally, to take down Father Gascoigne and yet it's completely optional and missable.
Bloodborne revels in the unexpected and remains pretty consistent throughout the whole experience. Even Dark Souls, a game I adore, ran into some inconsistencies at the late game stage (looking at you Lost Izalith) but Bloodborne stayed true to itself. Bloodborne ventures into some wild, cosmic horror near the end but at it's gothic core, it is as cohesive of a game as you can find. Like a fine piece of tapestry, Bloodborne is put together purposely and meticulously while delivering one of the most memorable and satisyfing experiences in video games in the last decade.
When was the last time you played Bloodborne? Care to pay Yharnam a vist? Leave down in the comments below your memories and moments from playing Bloodborne.