At The Game Fanatics, it is our mission to celebrate games, and the awesome people who make them.
We do so by striving to produce great quality content – from our podcast and discussion about video games, to our interviews, weekly YouTube videos, features and editorials, and more.

Who are The Game Fanatics?
The Game Fanatics was launched in December of 2009, in the muggy suburbs of Houston, Texas, and is the brainchild of Charles "Powers" Adiukwu. With the focus and intent to provide a different perspective on the ever-changing gaming industry, The Game Fanatics brings you everything from reviews and previews to the latest in gaming and technology news. We strive to shape the site based on the wishes of our dynamic community, resulting in daily fresh articles and content. We are a geek culture blog that celebrates all things, well, geek culture!
Yes, this has been done before…there's IGN, Gamespot, Kotaku, and the list goes on…(actually the fact that one would think to compare us to such gaming moguls is beyond us). We are just a team of avid video game fanatics who live, and love, geek culture – from anime to movies, comics, board games, nerdy puns, late night game shows…you get the picture.
Long story short, TGF is here, with personalized ratings and reviews from the minds of every day gamers, contests and giveaways, as well as news, and podcasts. We are building a strong gaming community with the greatest people and the most awesome team.  Hope that you'll join us for the ride!
What do we do?
Aside from being a recognized independent media outlet and all the rainbows and unicorns that come with that designation, we also put together kickass events! In fact, the very first event we threw (PS Vita launch party) in 2012 was sold out within days. We also provide full coverage of industry events and trade shows, and we've been told that our podcasts are very interesting.
Houston gamers, represent! The Game Fanatics was founded in Houston, and we are proud to support Extra Life Houston!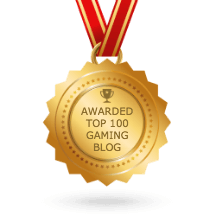 The Game Fanatics is proud to have been named a top 100 gaming blog in 2015!
The Game Fanatics name and logo are registered trademarks of Fanatical Mind Creative, and owned by Charles "Powers" Adiukwu.