The X-Men are my first comic love. When I first had some disposable income and decided to get into comics, the X-Men were the first place I looked. I'd played X-Men Legends, saw the movies and was familiar with the characters from friends. So I jumped in and have not regretted it since. And no matter how many other superheroes and other stories I read, I keep coming back to the mutants. In light of the upcoming Avengers VS X-Men, I've decided to list my top 10 personal favorite stories/arcs. Note that these are my own choices only, not reflective of anyone else on the site. This article will contain numbers 10-6, with the final five coming next week.
Honorable Mentions:
The Dark Phoenix Saga, God Loves, Man Kills, Cable and Deadpool
#10: House of M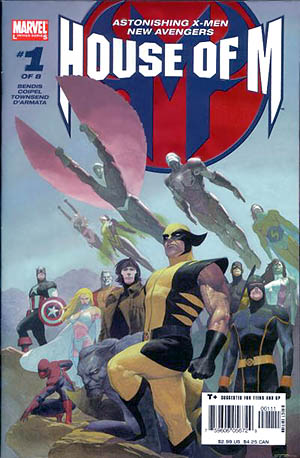 Written by: Brian Michael Bendis
 Illustrated by: Olivier Coipel, Tim Townsend, Frank D'Armata
Reason on list: "No more mutants." Few events in the X-Men's history have had as big of an effect as M-Day. The depowering of the majority of active mutants completely changed the tone of every X-story after it. The X-Men went from being heroes to the last of an endangered species. The whole tone of the series changed. Cyclops became the leader of a doomed people. Stories had been dark and dire before, but nothing compared to some of the stories after M-Day. It was reminiscent of Children of Men, as not only were a vast population depowered, no new mutants were being born, until Messiah Complex. M-Day happened in 2005, and even now in 2012 the X-Men are still dealing with the repercussions.
Highlight Moment: "No more mutants"
#9: Days of Future Past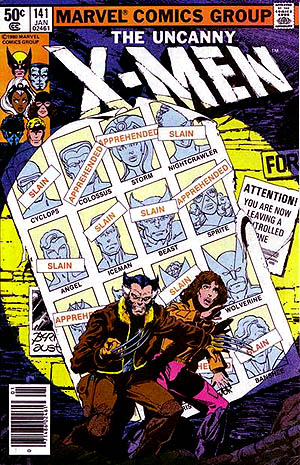 Written by: Chris Claremont
 Illustrated by: Alex Bryne, Terry Austin
Reason on list: Probably one of the shortest stories on the list, but also one of the most influential. Days of Future Past presents the dystopian future where mutants and humans waged war, and the robot and sentinels won. Kitty Pryde gets sent back in time (with help from Rachel Grey) to inhabit her modern teenage persona and prevent the spark that ignites the war. This future gets visited and referenced often. It also has one of the most iconic covers.
Highlight Moment: Kitty Pryde saving the world with help from her future self. Seeing one of the most iconic dystopias in comic history.
Fun Fact: The TV show Wolverine and the X-Men features the X-Men trying to prevent this future from occurring.
#8: Wolverine and the X-Men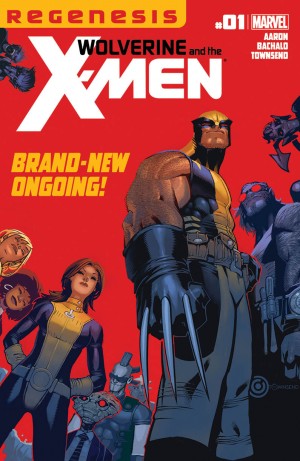 Written by: Jason Aaron
 Illustrated by: Chris Bachalo, Tim Townsend
Reason on list: The newest series on the list, Wolverine and the X-Men is a new favorite of mine. After the Schism, Wolverine went back to the school and restated it, taking most of the young mutants with him. He also brings a surprisingly awesome faculty roster:Kitty Pryde is a great headmistress, Beast is Vice Principal, Rogue, Gambit, Rachel Grey, Cannonball are also on board. But most importantly, it's a fun read. It really is. It's one of the best things to happen to the X-Men. Its silly, over the top, beautiful, colorful, dire, but not depressingly dire like so many recent stories. Read this!
Highlight Moment: Iceman controlling an army of icemen while defending the school from Frankensteins with flamethrowers.
Fun Fact: Ties in with X-Men Legacy and Uncanny X-Force
#7: Grant Morrison's New X-Men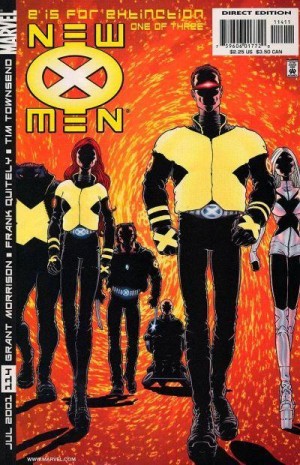 Written by: Grant Morrison
 Illustrated by: Frank Quitely
Reason on list: The series starts with the destruction of Genosha. The series starts with the deaths of sixteen MILLION mutants. In a matter of seconds. And it only escalates from there. Morrison took the X-Men out of their spandex and into the modern age. He made a new X-Men for a new audience, and succeeded spectacularly. The writing is supreme, the characters are very human and emotional. They aren't paragons, they have their own problems, but step up when the situation arises. There are a lot of great arc included in Morrison's run. This series is also notable for introducing Cassandra Nova, the perfect villain to counter Xavier. There are so many great moments that I don't want to spoil for you.
Highlight Moment: The destruction of Genosha, The riot at Xavier's, the introduction of Fantomex, so many…
#6: New X-Men: Childhood's End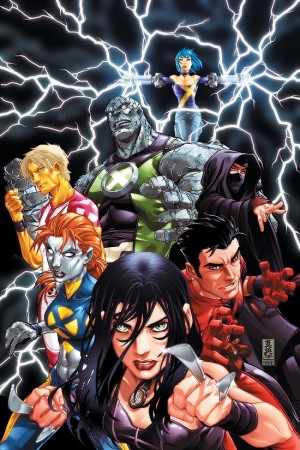 Written by: Christopher Yost and Craig Kyle
 Illustrated by: Paco Medina
Reason on list: Because Yost and Kyle know how to write characters. Childhood's End started at M-Day, at the school with many students being depowered. In her infinite wisdom, Emma Frost has the remaining students fight and the last six standing will form her new team. This includes Rockslide, Surge, Dust, Hellion, Mercury, Elixer and X-23 (at Cyclops' insistence). Yost and Kyle write these characters excellently. The story is dark, and there is great deal of fighting and death. It's intense, and you really feel for the characters.
Highlight Moments: Hellion and X-23 saving Mercury from Weapon X, Stryker's assault on the school
Fun Fact: Yost and Kyle brought their own created character X-23 to prominence during this run. She now has her own book. Well done, gentlemen.
Stay tuned next week for the final five! Let me know what you think. Leave a comment or find me on twitter @theindiegeek.