This year at PAX, we had the opportunity to speak with Tomasz Gop, executive producer at CI Games, and speak about their new title: Lords of the Fallen. For those of you that don't know, Lords of the Fallen is an Action-Adventure RPG that revolves around Harken, and his fight against the demonic armies of a long "Fallen God". Harken's story will be paramount to the game experience, as players learn about his origins and dictate his future.
That's basically a fancy way of saying that this game isn't following standard Western RPGs modes of player involvement. This isn't the player injecting themselves into a vast world (a la Elder Scrolls or Dragon Age), it's the story of a specific man on a specific journey. It's easy to respect that narrative advantages of this approach, but it's also easy to imagine this being seen as a deterrent for players familiar with the freedom to customize a character.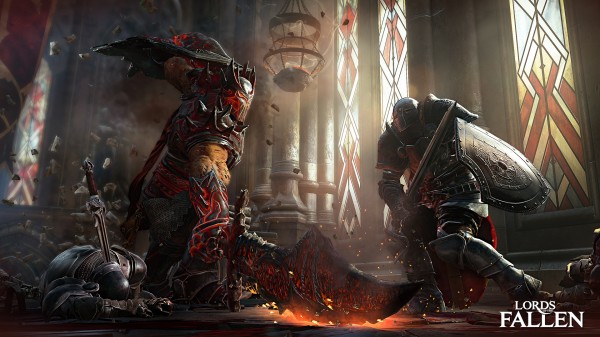 What the players can customize is Harken's class. Harken can either be a Rogue, Warrior, or Cleric, and special abilities will be available to each side. Now it's important to note that armor and weapon options won't be affected by this choice. You can play a Cleric, and deck yourself out in "Rogue's Leather Armor" and use daggers to combo your enemies, or be a Rogue and use a shield and warhammer. Essentially, the special abilities were the only thing your class choice dictated, but we were assured that these abilities would be game changing in terms of how a player would be able to approach combat.
"We do not want to impose on the player," Gop told us, "we focused a lot on freedom of play style."
Combat-wise, Lords of the Fallen offers players two styles – a melee and magic style; you can focus on one or the other, or both. The melee is unique in the RPG genre as it's very tactical, think old school International Karate (Atari) meets Moonstone (Amiga) meets current-gen Dark Souls; a very concise combat style with more one-on-one fighting and dodging. There will be lots of one-on-one combat in Lords of the Fallen, lots of rewarding melee combos, coupled with powerful magic. When going into detail about the combat in Lords of the Fallen, Gop said,"there's a little Tekken, a little Street Fighter," timing and combos will be your best friends if you go down the melee route.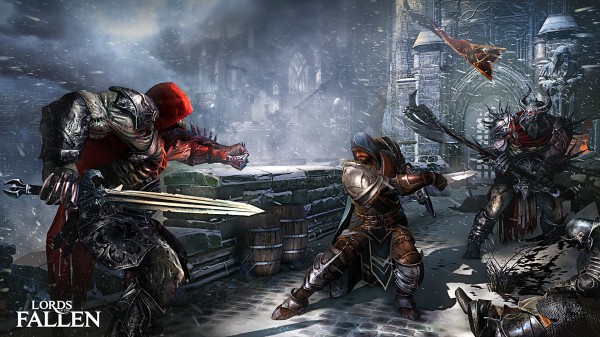 Lords of the Fallen runs on City Interactive's proprietary engine, which features gorgeous scenery. Scenery that was vivid and colorful. It's easy for these narratively dark games to opt for a pallet of dingy, washed out browns and grays. Lords of the Fallen however has a wide range of hues in it's uniquely high-fantasy architectural and character themes, bringing to life a world that players are encouraged to explore multiple times.
"Lords of the Fallen is not a Sandbox, I don't want to lead anyone on, but it is exploration heavy," Gop told us.
Players would not only be encouraged to explore an area their first time through, in order to take advantage of alternate routes that would give them an upper hand on certain enemy positions, but that players would also be incentivized to return to areas that they had previously cleared in order to discover content that would become accessible once they had progressed further in the narrative (though we're not sure how these new areas would become accessible, or what may be blocking your way the first time through).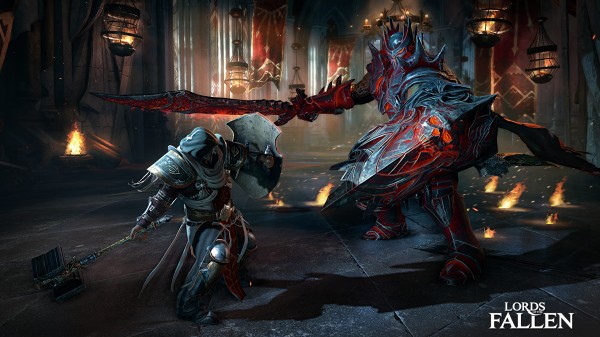 As we wrapped up our demo, one thing we took away was the sheer complexity of medieval strategy games that's found in Lords of the Fallen, from crafting to an interesting lore, to weapons and equipment, but Gop assured us that the complex nature of the game will not lead to  grueling or punishing gameplay for the player.
More from around the web