Android users are in for a treat as SNK Playmore has released King of the Fighters Android.  This fighting game is modeled after the art style and gameplay of the highly acclaimed King of Fighters XIII.  Players can touch the screen using a virtual screen and buttons to recreate the gameplay from the series.  As this title really seems to take advantage of the hardware available in the Android devices as the screenshots are very impressive.  This seems like a fun and cheap way to take this very awesome fighter on the go.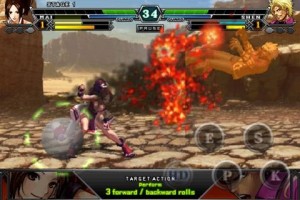 Featuring 5 basic modes, team battle, single battle, the very difficult challenge mode, endless battle, and the training mode, this game is quite the little bundle for 5 bucks.  Also, there are 20 characters available to play as so it's obviously not quite as buffed as King of Fighters XIII.  This game is supposed to be compatible with the following: GalaxyS2, Galaxy Tab 10.1, Xperia acro, and Xperia play.  Fans can also unlock bonuses shown in a gallery that include novel stories, sketches, trading cards and other extra bonuses for players to enjoy from the SNK universe.
Always great to see SNK Playmore putting out games as they have been making some great games as of late.  Hopefully these catch on so they can keep doing their thing.
Source: SNK Playmore