CD Projekt RED's newest game-building engine, REDengine 3, is causing quite a stir. 
Developer CD Projekt RED's new in-house tech, REDengine 3, has been developed for open-world RPGs, and the screenshot released to tease it just might be our first look at The Witcher 3.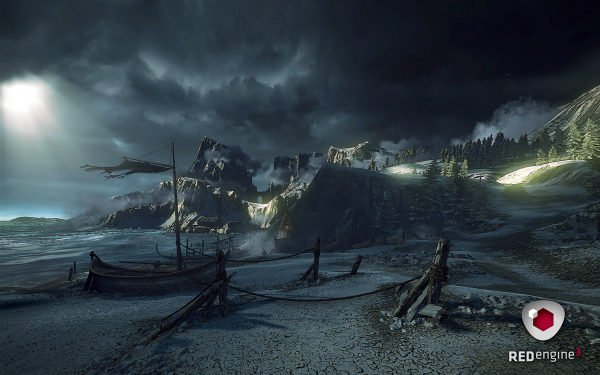 That's the rumor, anyway, because the REDengine is known primarily for debuting in the PC version of The Witcher 2, and was instantly praised for its graphical capabilities. The next version was shown off in the Xbox 360 version of The Witcher 2.
"If we look at RPGs nowadays we find two approaches, one which emphasizes the story but limits the game world, and one that builds a vast, open world but hampers and simplifies the story. With the REDengine 3 we combine the positive aspects of both approaches for the first time, creating an open environment with a complex, multi-thread story… now we have the possibility to use REDengine 3 and create something many RPG fans dream of," said Adam Badowski, head of CD Projekt RED studio.
The other project REDengine 3 is tied to is Cyberpunk 2077, which the studio says will be a prime example of the engine's capabilities. Some are already speculating whether Cyberpunk 2077 will be part of launch plans for the next generation of gaming consoles.
The new engine  uses high-dynamic-range rendering that promises more realistic lighting effects, as well as a terrain system that allows for multiple layers and blending, and a more flexible rendering setup, as well as an editor that allows for complex, branching, free-roaming quests. We'll hopefully have more on REDengine 3 in the weeks to come.