So the football season has officially kicked off, and fans are eagerly sinking their teeth into the NFL madness they've been clamoring for.  And of course with a new football season, means there is a new edition of Madden upon us.  With the new systems on the horizon, there were questions of how EA Sports would approach this edition of Madden.  EA Sports is celebrating 25 years of Madden with this year edition, so it was clear that EA Sports needed to try and make a big deal out of this years game.  Revisions to the running game with the new Run Free & Precision Modifier, year two of the Infinity Engine and few other bells & whistles that EA Sports hopes can push this title over the top.
The gameplay of this title is the best part of this edition of Madden 25.  Tweaks throughout the gameplay of this title make the Madden 25 experience very smooth.  Essentially playing very close to last year's Madden this game will be very familiar to those players that played the previous version of this game.  The tweaks however offer a more thorough football experience.  All of the tweaks and running game adjustments are all reviewed in an all-new tutorial that really helps players get running out the gate with this game. The Run Free feature of this game  really opens things up for players, giving them moments where they can look like Barry Sanders chaining moves together with precision timing as if they are performing a combo in a fighting game.  The precision jukes, spins, jumps and straight arms all really come to life during game play with some well designed animations.   Also, with every good running game there is a need for solid blocking.  This year's edition has an assortment of blocking animations and schemes which help improves the running game as well as enhance the overall flow of the game.  The passing game is very similar with tapping the designated button for a lob pass and holding the desired button for a straight or bullet pass.  Defense is also essentially the same as last year although interceptions seem to come easier in this version, which actually is a good considering that offense can be a tad overpowering at times.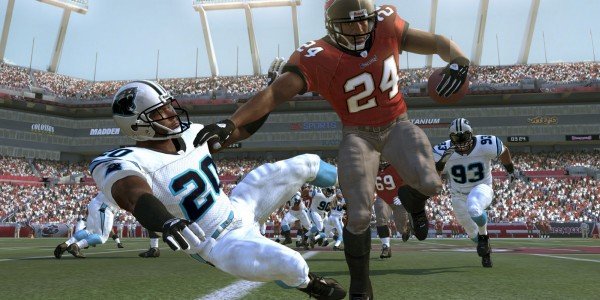 Last year Kaepernick, Wilson and RGIII and their teams unleashed the option made popular in college on the NFL.  The people behind Madden 25 made notice of this and made sure to add the option the playbook.  This gives players a chance to fake out opponents with the "option" to hand off to the running back or tucking it and running with quarterback.  This adds to the Madden experience, making the title a lot more fun.  As if fast mobile quarterbacks like Vick, RGIII, and Kaepernick need even more assistance to be dominant in the video game world.
These additions and total overall package of the gameplay are indeed the highlight of Madden 25.  So while this part of the game is great, the presentation and seasonal modes while efficient did leave a little to be desired.  Starting off with the best part, there are ton of legendary players and coaches that you can unlock for the Connected Franchise mode.  There are ton of different options for the franchise modes, such as relocating to different cities  and updates of fictional tweets, while a bit bland, that give players news of news around the league in their franchise mode.  Team names, stadiums and uniforms are all permissible to be edited for players respective franchises.  This owner mode really tries to put you in control of the franchise, these modes will be sure to bring hours of gameplay set for players to sink their teeth into.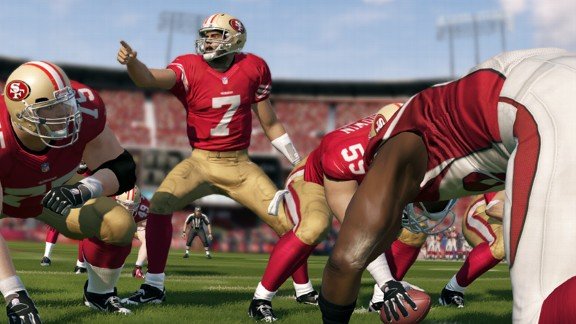 Another good feature in this years edition of Madden is the Madden Share mode.  Here players can upload rosters, playbooks and sliders to share with other players in the community.  Players can find a variety content  from created by players in the Madden community.  EA Sports will also feature the content that is considered to be the best of the community, Madden NFL development team and possibly other special partners or experts.  Ultimate Team mode is still here and while collecting player cards is still fun, essentially this mode is very similar to last years edition.   So this is all pretty standard and quite honestly uneventful.
Now the other aspect that players may be curious about is the overall presentation.  Loading screens that make players aware of the history of the Madden franchise, filled with neat facts and screenshots.  Graphics are as sharp as ever with good player models and accurate stadiums.  Crowd noise is also very entertaining capturing the feel of watching a game on Sunday.  Unfortunately, Jim Nantz and Phil Simms on commentary have already grown to be irritating.  It doesn't take many head to head games to hear a lot of the same phrases about the progression of a game.  It is the biggest draw back of this title as it makes the experience more repetitive than it needs to.  They even knock the NFL a bit for the status of how often referees throw the flag for pass interference or defenders not being allowed to hit.  This kind of seems reckless to bash the rules the NFL made when you have an exclusive NFL license to make your video game.
Don't that little dig on the commentary fool you.  This is an excellent edition of Madden the adjustments to the gameplay as well as the inclusion of the option make Madden 25 more than just another yearly roster update.  With improved graphics, revamped gameplay and hours of content in seasonal modes, Madden 25 is definitely worth buying to get your video game gridiron on.