Piranha Games released a sweet looking new trailer for their forthcoming free-to-play shooter MechWarrior Online at this year's Game Developers Conference. We get to see three of the "BattleMech" types, an Atlas, a Jenner and a Hunchback battling it out in one of the many environments available to players for giant robot blasting mayhem.

Check out the new trailer!:
[stream provider=youtube flv=http%3A//www.youtube.com/watch%3Fv%3DrkGvP8VFXAI img=x:/img.youtube.com/vi/rkGvP8VFXAI/0.jpg embed=false share=false width=640 height=360 dock=true controlbar=over skin=stormtrooper.zip bandwidth=high autostart=false /]
According to the official press release, MechWarrior Online will give players "endless options" for customizing their BattleMech. They can upgrade systems, replace weapons, and tweak their armor. As seen in the trailer, the game is going to be focused on first person action where players will go head-to-head in Conquest and Versus modes. Taking place in a distant future threatened by interstellar war, you can band together with other players to form your own Mercenary Corporation, battle other Merc Corps and/or pledge your allegiance to one of the five great houses in a constant battle for control over the precious Inner Sphere planets.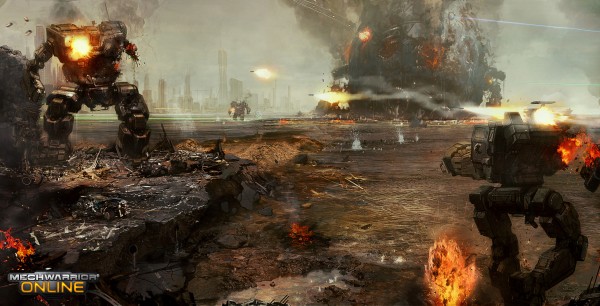 MechWarrior Online is being developed by Piranha Games and is set to launch, as a free-to-play title for Windows PC later this summer. For more info on the game check ou the official site.