Here at The Game Fanatics, we love Brian K. Vaughn's Saga. It's one of the most remarkable and interesting comics being published currently. I have successfully gotten many non-comics readers to read it. It has interesting characters, exciting locales and beautiful artwork. Unfortunately, it's also on haitus, scheduled to return this fall. To help get through summer, I've compiled a list of five comics that any fan of Saga should enjoy.
When creating this list, it was easy to simply list my favorite Image and Vertigo series. But that's too broad. There's tons of books that aren't superhero books that are worth reading. What is it about Saga that we love? For me personally, I love the crazy world that gets more and more strange with each issue. I love the intricately written characters and the sharp dialogue. I love Fiona Staples' gorgeous art.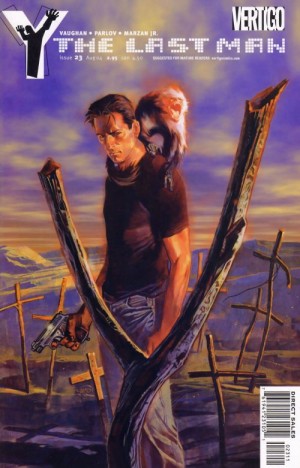 One last note: If you haven't read Y: The Last Man, please do so. It's an incredible read and put Vaughn on the map. Definitely a must read, but a bit too obvious for this list.
5. Carbon Grey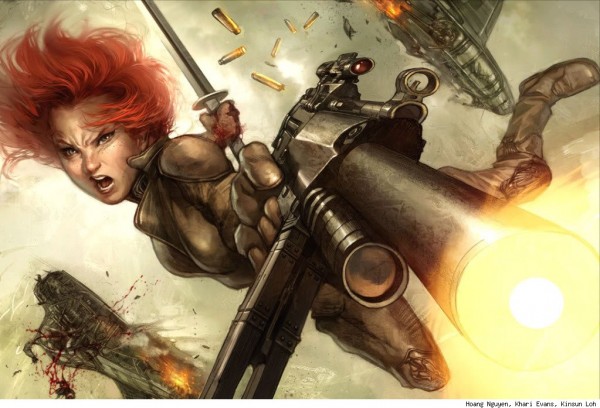 Carbon Grey (Image) is one of the most beautiful and details comics I've seen. It's a bit steampunk and a bit World War One. Lots of violence, political intrigue and extensive mythos make the world very unique. The story features two sisters, Giselle and Mathilde who are sworn to protect the Kaiser, leader of the known world. When he is assassinated and Giselle is labelled as the primary suspect, things go from bad to worse very quickly. It's an exciting and beautiful story. Currently only at eight issues, the art book is also worth picking up. Seriously beautiful.
4. Prophet
If the strange, alien landscapes are your favorite part of Saga, then look no further than Prophet (Image). A 2012 revitalization of a 90s Liefeld creation, it relaunched with issue 21 and science fiction comics were changed. A brand new take on a fairly stale character, it breathed new life by taking John Prophet into the far future. Humans are a minority, if existant. Each being and planet John encounters is strange and unique, and it all look great. As John travels, we learn that the galaxy isn't quite the place he left it and there's a few significant changes. Fantastic landscapes.
3. Hellblazer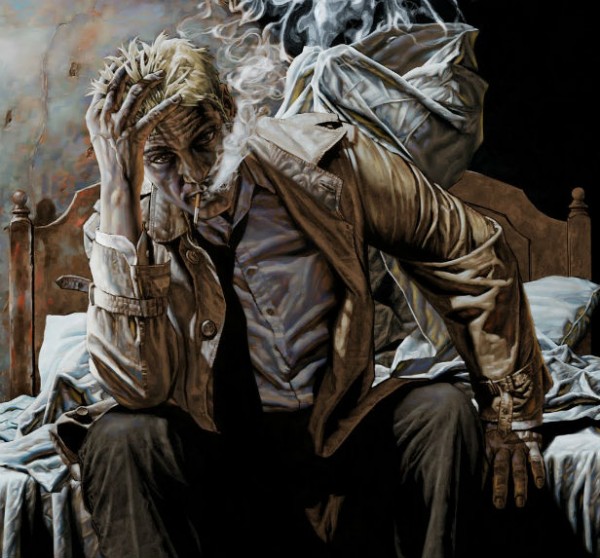 Hellblazer (Vertigo) is the place to go for weird. Seriously weird. It follows protagonist John Constantine who is probably a good guy, we think. A rather questionable gentlemen, he does have the greater good in mind, but his methods and manipulations lead one to question sometimes. It's a largely supernatural world of demons, ghost, magic and lots of guile and cunning. One of the key Vertigo titles, if supernatural stories, bizarre characters, and a multi-faceted main character seem up your alley, check out Hellblazer.
2. Runaways
When we were growing up, we all speculated that our parents were evil. Most of them turned out not to be, but what if they were? And not just evil, but evil evil, like super genius evil. Like, shadow rulers of LA evil. That's the scenario Vaughn presents in The Runaways (Marvel). My latest obsession, it's a great series. The characters are extremely likable and dynamic, and the stories are well written. It's a book about teens, but not dumbed down at all. It's simply a fun read. It's set in the Marvel universe, but is very much on its own and feel more like an Image book. It's also partially written by Joss Whedon.
1. Planetary
Planetary (DC) from Warren Ellis and John Cassaday is the complete deal. All of the things I described about Saga are also in Planetary in spades. Very science fiction focused, the series is best summed up in their tagline: It's a strange world, let's keep it that way. Awesome locations, wonderful art, and three great main characters. Elijah Snow, Jakita Wagner, and The Drummer form the three man band know as Planetary, an organization dedicated to unraveling (and preserving) the mysteries of the planet. It's Warren Ellis being Warren Ellis, and the result is nothing short of perfection. Very well written, and illustrated, Planetary should not be missed by any comic fans, let alone Saga fans.
There you have it, between Carbon Grey, Prophet, Hellblazer, Runaways and Planetary, you should have more than enough to get you through summer and into fall when Saga returns. Huzzah!