In a new article series here at The Game Fanatics we'll be featuring some great artists we come across, every week! This week, talented artist from the UK, Jodie Muir, stood out to us with her Assassin's Creed art, so we reached out and she granted us an interview.
Game Fanatics Interview With Jodie Muir:
First off, Thanks for taking the time to chat with us! Tell us a bit about yourself.
Jodie Muir: It's really no problem at all. I am a freelance illustrator based in Manchester in the U.K.
I'm a bit of gamer and a fantasy addict, in any incarnation – books, art, films you name it.
As a gamer and a fantasy addict you are definitely in good company over here! So how did you get started creating art? Do you have any inspirations or role models?
I have been drawing since I can remember, I used to buy game magazines and comic books
and draw the characters all day long. I love the work of comic artist Michael Turner – He's definitely
one of my favourites. Stjepan Sejic too. Mario Wibisono is another artist I admire greatly, his attention to detail
is quite simply phenomenal, Luis Royo, Charmaine Olivia, Charlie bowater, Marta Dahlig they're all superb.
I will always head to sites like deviantart or cghub for inspiration too. they're filled with wonderful stuff that gets the
creative juice flowing.
Stjepan Sejic is extremely talented I can definitely see how he is an inspiration for you and others. Exactly how long have you been painting?
I started painting digitally around 4 years ago, prior to that I had been entirely traditional in my methods, mostly
working with pencil. I entered into digital art as a complete novice, It's definitely a case of practice makes perfect.
I paint every day now to try and push myself to improve all the time.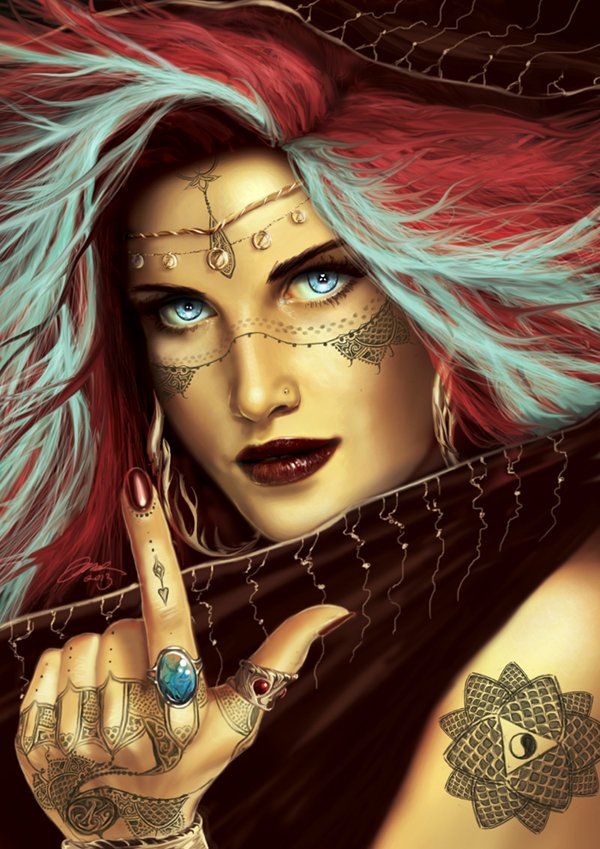 Tell us a bit about your creative process:
If I'm painting, It usually starts with colour or mood, then I will start sketching out very lose ideas, slowly layering up shapes, then I'll start defining with a light source. It's strange, I used to work rigidly from a tight sketch but recently I've found this new approach means my work develops more organically, you're not bound to your initial concept, ideas and happy accidents can happen readily and if you come to a painting the next day with fresh eyes and think "hmm, that's not working" or "lets try this" you can change it really easily.
Music, or no music (while creating)?
I pretty much always create to music. They just go together so perfectly, music can help define mood and can set a nice working pace too.
Ok, so you've gotten inspired, you know what you want to create, what's the first tool you reach for?
The coffee machine! If I'm at home I usually go straight the Wacom tablet. If not a pencil and paper, I'll rough out or write whatever the thought or idea is down.
Let's say for some, totally hypothetical reason Earth is about to blow up. Don't panic, there is a savior aka a space ship getting ready to save you! But you can only save two pieces, what will those two be?
Ooooh now that's a toughy. it's really hard to choose. I'd probably save my most recent painting of Edward Kenway, It's probably one of my best pieces and the other would be my gypsy queen painting, She is another of my personal favourites.
Your Edward Kenway painting is amazing!! It is actually the first piece of yours that I saw and immediately thought who is this artist!? I must see more of their work! 
It's no problem at all! thank you very much for your lovely and kind words. It's always nice to know how someone found me too, I find that kind of thing pretty interesting.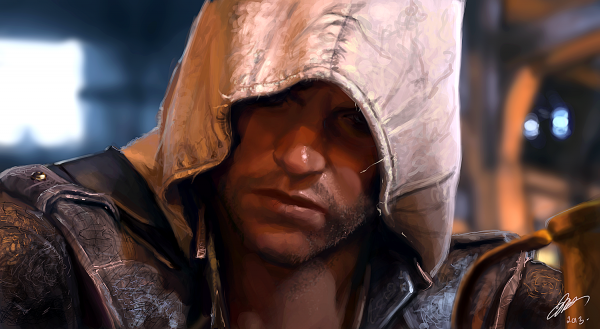 So let's talk video games, what are you playing right now?
At the moment I don't really get much time to indulge myself in a full campaign on anything, the last game I played through was the Tomb Raider reboot, which I absolutely loved. I have been a Lara fan since TR1, It was nice to see her character heading down a realistic, believable and vulnerable route, things were getting a bit stale but this instalment had me gripped. I have also never seen such brutal ways to kill a character, Those rapids still scar me. However the most recent thing I've had in the disk drive is Assassin's Creed 3 multiplayer, I love it almost as much as the single player.
Your guilty pleasure video game, that one game you can play for hours on end and tune everything out, what is it?
It would probably have to be Mortal Kombat 9, I love beat 'em ups but MK is one of my favourite franchises. I don't know if it's the nostalgia but it's easily something I can pour hours and hours into.
Let's dig into your pile of shame for a minute. Tell us one game you haven't played, that you're ashamed you haven't played yet.
Red Dead redemption – I know. I know. *hangs head in shame.
You must play Red Dead when you get the chance! Do you remember the 1st video game you ever played?
I think it was probably Alex the Kidd in miracle world, It was built into our master system.
Your dream job, what is it?
Working in the games industry designing characters, that's the ultimate dream job for me but I think I'm happy so long as I can create and paint for a living, I can't ask for more than that really.
Are you currently working on anything cool?
I have a few awesome jobs coming my way at the moment, I have another ebook cover coming up early October and some pretty cool personal commissions.
Now for my favorite question: It is Friday and you are about to get off work, what song are you listening to?
At the minute it would probably be Pentagram – burning rays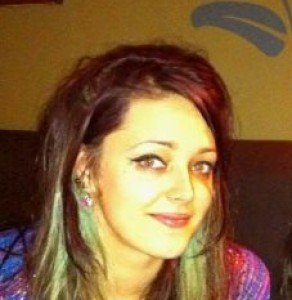 Thanks again for your time Jodie, where can we find more of your work?
It's no problem at all, its my pleasure, you can find my full gallery online at: