Welcome to this week's edition of The Comic Fanatic! There were many comics released this week, but there are two that deserve your undivided attention and your three dollars: Batwoman #13  & Hawkeye #3.
First up, Batwoman #13. I'm just going to go ahead and say that J.H. Williams III is a genius. Everything about this issue is fantastic. The writing is great, the art is amazing, and it comes together in a package that I can't recommend more. This issue finds Kate accompanying Wonder Woman to an undersea labyrinth to  confirm or deny that Medusa (the actual Medusa) has escaped. She's quite out of her league, dealing with demigods and worse, and while she acknowledges this, she doesn't let it control her. She IS Batwoman, after all. Also in this issue, several members of the supporting cast have a page of their own, just to give us a little insight, and it works extremely well. Williams is able to do more with a single page than many writers can do with a whole issue.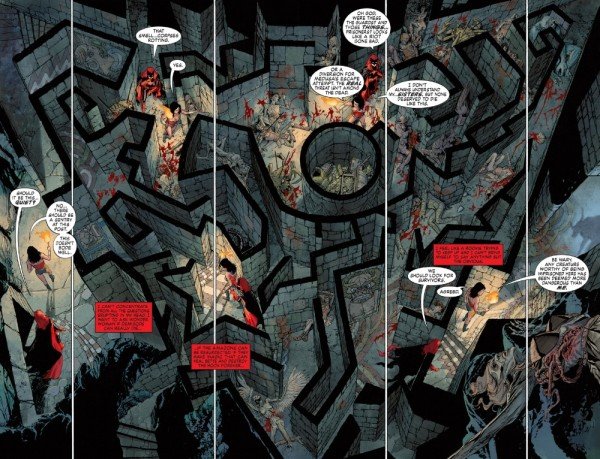 First we have Detective Chase and Director Bones, aka the two who are currently blackmailing Batwoman. Then we have Kate's Dad helping Bette (Kate's cousin who got injured) recover. It's a beautiful page about two broken people. Have I mentioned that the art is amazing? Williams' art never failed to impress. Not only is the art itself great, the way he lays out the pages and doesn't stick to normal panels is incredible. Since venturing into DC, Batwoman has quickly become one of the books I look forward to most each month. If you haven't, please check out Batwoman, I really think you'll like what you find.
I previously reviewed Hawkeye #1 and gave it a 5 out of 5. A truly remarkable start. Then, due to a shipment at my LCS being damaged, I received issues 2 and 3 this week. I will talk about both of them, but if you want the short version: Yes, they are as good, if not better, than the first issue. It's an amazing series for Clint. Issue two brings in Kate Bishop, Clint's protege and occasional Hawkeye stand-in. The two of them have a very fun dynamic. It's still a teacher/student relationship, but the student isn't afraid to backtalk to the teacher, and outpace him once in a while. Issue two involved the pair investigating a group of thieves at a Cirque du Nuit performance. It's a very fun a fast paced ride.
Hawkeye #3 start off with a simple premise: Kate and Clint are organizing Clint's crazy arrows. He runs out to get tape and a long series of terrible ideas ensue (nine, to be exact). He walks us through the series of crazy events, and it is both hilarious and action packed. We get to see Clint use several of his special arrows (putty arrow, net arrow, bola arrow, suction cup arrow, etc.) in action, which results in this awesome panel:
Very fun to read. Also, we learn how much Clint relies on Kate (spoiler: a lot). Lastly, we have the first instance of Hawkblocking. You'll know what I mean when you see it. All in all, probably my favorite issue yet. Can't wait for the next one.
That's all for this week. Make sure you pick up Batwoman and Hawkeye. These are two series I really enjoy and truly believe are worth your time and money.