Welcome back True Believers! We have a first for The Comic Fanatic this week – I'm gonna spotlight DC for the very first time. If you've read this column before you know I'm mostly a Marvel guy, and I do love Vertigo, but never really touched DC until fairly recently. Wanted to get into Batman, and with Scott Snyder (American Vampire) writing, it seemed like a logical place to start. Since then I expanded into more of the Batman family and have really been enjoying it. This month, DC has been doing issues numbered Zero for their titles and focusing on backstories, a bit of a change of pace from their current arcs. I've picked up eight of them and will let you know what I think.
First and foremost we have Batman. This issue features an early run in with the Red Hood Gang as well as an early meeting with Lt. Gordon. Pretty interesting, but definitely not as interesting as the epic Court of Owls arc which just completed. Be sure to read that if you haven't. My favorite part of the issue is a little epilogue at the end of the issue called "Tomorrow", which features the Bat-Signal's debut as well as Dick, Tim and Jason. Very cool part. Not a bad issue, but with the Owls just completed and the upcoming Joker arc, it seems a little bit like a stall.
Next up we have Batwoman. A book I originally picked up on a whim, it's fast become one of my favorite monthly titles. Kate Kane is a very cool and interesting protagonist and the art is just fantastic. This Zero issue takes the form of a letter from Kate to her day with whom things have been rough, especially since the Elegy arc. It recaps parts from that, and then shows her transformation from ex-West Point to costumed Vigilante. It's very well done and highly recommended. The writing is great, and I eagerly look forward to more from Batwoman. One of my new favorite characters.
Batman & Robin focuses on Damian Wayne and his messed up relationship with his mother, Talia. Despite being a punk, I do really like Damian. He's a fun contrast and foil to Bruce and Dick, and definitely quite capable at such a young age. The story followed mother and child as Talia tells Damian he can meet his father after he defeats her in hand to hand combat. This comic also features a great panel of four-year old Damian in the bat cowl "Look at me mama, I'm a bat!". Great panel, fun issue. The Wayne (extended) family may not be as messy as the Summers-Grey family, but it's getting there. A fun book, and I hope the series continues in a similar manner.
Gail Simone is a terrific writer, and Batgirl continues to show off her skill. This issue does a great job of showing off Barbara's strength of character and her determination. Another very well written book. A riot erupts at the precinct while Barbara and her brother are visiting, and they're trapped inside with several angry criminals. She puts on a bat-suit the cops had acquired, and Batgirl was born. Interesting character because she's far from fearless, but she is very determined and smart. There's a great internal narrative going through the issue which serves to flesh out the story more. And if you know anything about her story, you know where the issue ends. Just one panel, but enough to give a couple shivers with what comes next.
Yeah, this cover. We've all seen this cover. Was much worse, but still isn't great. Catwoman is supposed to be sexy, but this is Liefeld-level art. Normally I really like March's art, but this cover is pretty bad. Also a lackluster issue, which is a shame because I really like this comic. It's usually rather fun. However the team behind this issue (Nocenti and Melo) just didn't do it. Interior art isn't great,and the story left a great deal lacking. Skippable. Main run is pretty good, though. Just not this issue.
I liked Nightwing . It's nothing new, Dick Grayson's origin story hasn't really changed that much over the years, but it is well told here. It follows him from a young (and talented) acrobat to being Bruce Wayne's ward to being the full sidekick. It establishes Dick's character (brash, somewhat reckless, talented, smart, agile) early on. It's told by Dick looking back and ends with a particularly great panel of Nightwing overlooking Batman and himself as Robin with the text "Robin would be anything but permanent, but that's fine. Things always change." Great statement.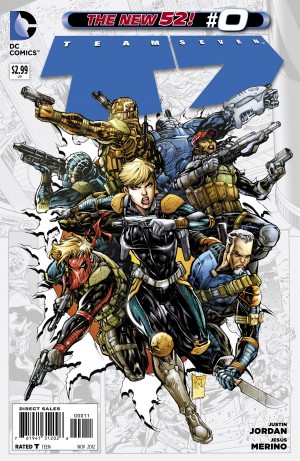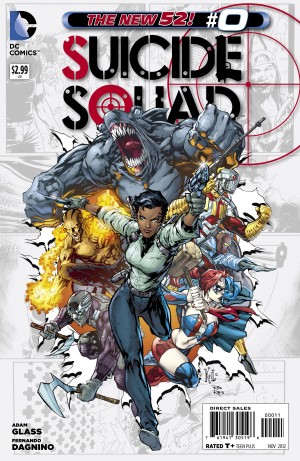 Lastly we have Suicide Squad and Team 7. Didn't like Suicide Squad. It focuses on Waller before she forms the team, which I didn't really care about. I read the comic because I like Harley, Deadshot, and the rest. Not because I care about their boring handler. Team 7 was fun, although I don't really know anything about the team. It was written by the writer for Luther Strode, so I was curious. Interesting, but I'd need to read the rest of the series to get the full effect, I think.
There you go. Eight DC issues to make up for the lack of DC-ness around these parts. Hope you enjoyed these. See you next week.