And we're back! Sorry about going AWOL the past few weeks. Work has been significantly busier than usual, but have no fear. The Comic Fanatic resumes its usual weekly schedule. So for all two of you that read this column, don't worry. This week due to two interesting (one happy, one sad) pieces of news, as well as the release of the magnificent Uncanny X-Force #31, I am going to focus on my favorite comic series – X-Force.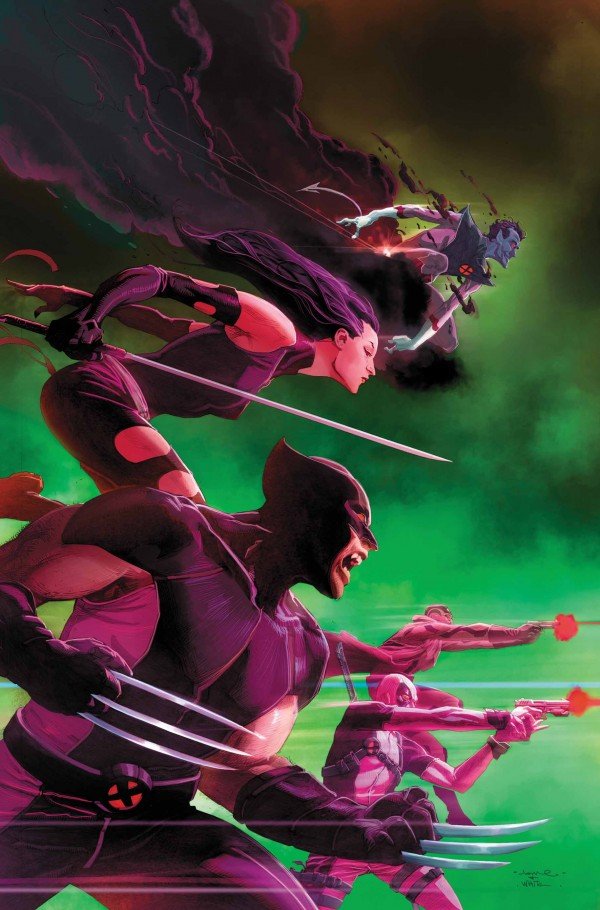 Let's cut straight to the chase. Uncanny X-Force is ending with issue #35, the end of the Final Execution arc. Remender has confirmed via twitter that the series is indeed ending at the end of this arc. (Source) This really hit me like a blow to the gut. Uncanny X-Force was one of the first series I picked up monthly and as anyone can tell you it has been nothing short of amazing. The Dark Angel Saga was my number 3 favorite X-Men story and the whole series has been fantastic including the current Final Execution arc.
The way Remember pushes the characters to their limits and beyond is incredibly thrilling to read. Psylocke, Wolverine, Deadpool, Archangel, Fantomex and (more recently) Kurt Darkholme have made for an extremely interesting and dynamic cast. The other thing is that the series is really one story. There are definitive arcs, but as the latest issue shows, events from the first issues have a profound impact on current events. So yeah. Sorry folks, Uncanny X-Force is ending. Remender has said the story will continue in the upcoming Uncanny Avengers , but it won't be X-Force. A toast to Uncanny X-Force, one of the greatest series Marvel's made! Done way before it's time.
And now for some good news! This December a new X-Force series starts! Cable and the X-Force will feature Cable, Domino, Colossus, Forge and Dr. Nemesis. You can check out an interview with writer Dennis Hopeless on CBR, but the gist is this:  after attacking the Avengers and then proceeding to fall into a coma, Cable misses the whole Avengers VS X-Men debacle. He awakens and puts together a team to do two things. 1) Find Hope. 2) Do what he's always done. Save the world whether it wants to be saved or not. And that's what I've always liked about Cable. He knows what needs to be done and will do it come hell or high water. He's the guy you go to when you need a job done, no questions asked. The rest of the team looks quite interesting as well. Domino's there (of course, it wouldn't be X-Force without her. This marks her third incarnation of the team she's on.), but Colossus, Forge and Dr. Nemesis? Not your typical X-Force roster. Hopeless explains:
[quote] In my mind this is a crime series, so I tried to cast the book like you would a bank robbery. This isn't a family or a school. It's a crew. A safe cracker may hate her getaway man, but at the end of the night, she still needs him to drive the car. Cable puts the team together for their skills, not because he thinks they'll get along.[/quote]
After I read this part the first thing I thought of was the TV show Leverage, my favorite show currently on air. For those of you unfamiliar with it, shame on you. It's about a group of criminals who have banded together to use their skills and talents for good. The intro to the show refers to them by their roles: Hacker, Hitter, Grifter, Thief, and Mastermind. And that's Cable's new crew in a nutshell. Cable's the mastermind, Colossus is obviously the Hitter, Domino's the Grifter/Thief, and Forge and Dr. Nemeis are co-Hackers (smart guys for tech and medical respectively). This is a departure from the usual roster which is filled with the likes of X-23, Warpath, Fantomex, Deadpool and Shattarstar. Very dangerous individuals who are very good at fighting and killing. I am very curious to see how this new team pulls together.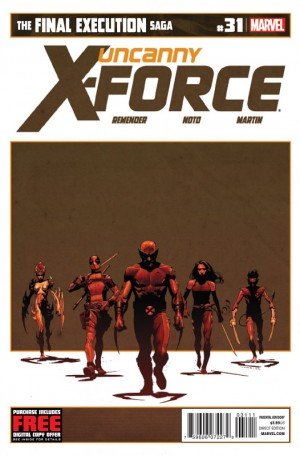 As for Uncanny X-Force #31 , X-Force goes to war. The Brotherhood continues to try to twist and manipulate Evan (the Skinless Man is especially twisted) while the team wrestles with what they must do. Hopefully that'll involved Daken getting eviscerated. Do they kill Evan for fear of what he is/could become? What happens if he becomes Apocalypse. Beast and Kitty make it quite clear they'll never forgive Logan if anything happens to Evan. It's these kinds of moral quandaries that make Uncanny X-Force great. Final Execution is shaping up to be a fitting and very personal ending to one of the greatest runs the X-Men have known.
X-Force has always been my favorite comic. As I've said many times, the previous incarnation of the team (Wolverine, X-23, Warpath, Archangel) was unlike anything I'd read before. Yost and Kyle hit the hammer on the head with a really kickass team with epic storylines, really dangerous villains, and amazing action illustrated by some really talented artists. It was amazing and still is one of my favorite runs. I was a little nervous/sad after it was cancelled and Uncanny took its place, but obviously my fears were unfounded and we got one of the best books in recent memory. X-Force will always be something the other X books can't: dark, violent, mature and morally grey, qualities I love in a great story.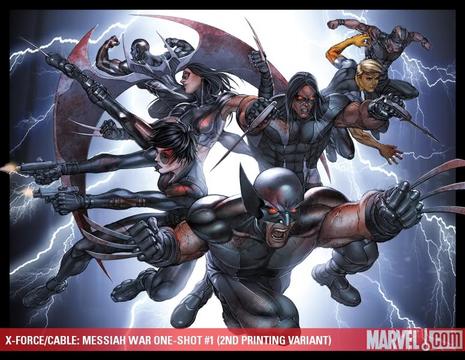 So there you have it folks. Uncanny X-Force is ending, Cable and the X-Force starts in December, and Final Execution is really great. It's good to know that X-Force isn't going away. It will be a tough act to follow, what Remember has done with Uncanny X-Force has been nothing short of amazing, but I am hopeful for the new team. We'll find out in December. In the meantime, let's enjoy the remainder of the story, and don't forget about Avengers VS X-Men concluding soon and then Uncanny Avengers! Until next week, True Believers!