In the depths of the indie area at PAX I found Card Hunter and after playing 20 minutes of it, I want more. I want more right now.
Card Hunter takes place as though you are playing a tabletop RPG with a crazy DM guiding the whole thing. More on that aspect later though. The game is set on a grid based board that is clearly on a table and with characters that are made to look like 2d cardboard cutouts. It's a look that works beautifully. All that is missing is a slice of pizza off to the side of the board.
Anyway, you have control of three adventurers in turn based strategy RPG combat. All attacks, magic, and movement is done via cards drawn randomly from each character's deck. There are also defense cards that work just like you'd expect: when attacked, there will be a dice roll to determine if you effectively block. There are dice rolls all over the place and it's great.
After clearing the first stage against a few enemies, I was shown the equipment screen. Each character can equip different things based on their class and the cards they get to use in battle come from the equipment itself. So if you equip a stronger sword, the cards from the old sword are removed and replaced with newer, better ones.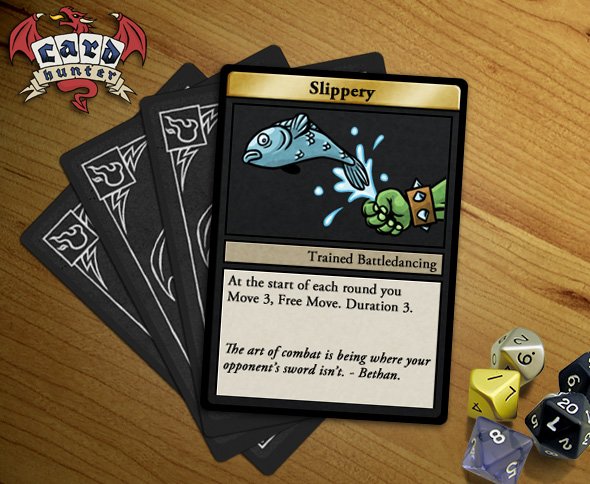 As I went to leave this screen the DM showed up and described something horrible. While leaving the dungeon, my entire party was ambushed by a dragon. What followed was a tough battle that required smart use of each character's cards and proper placement. The whole time I was impressed because this was just the demo and so much more game and encounters like this awaited me.
Then I got to see the world map screen. I immediately scrolled to the edge to see how big the map is. It's huge and that isn't an exaggeration in the slightest.
When Card Hunter gets released it will be a browser based game and also free. Free. FREE! I would gladly pay for what this game promises.
While I didn't get to play it, there will also be PvP involved to sweeten this deal. Currently there are three classes and three races to choose from but more could be added down the line and what they have now is more than enough to have fun with.
I was told that they estimate a beta for Card Hunter happening in the next month or so with the official launch in late 2012, early 2013.
Did I mention free and that I can hardly wait? I did? Well ok then. Check out their website for more info: http://www.cardhunter.com/.