It has been revealed that Activision Publishing and  Terminal Reality are making a game based on AMC's Emmy award-winning series The Walking Dead.  This title will allow players to set foot  in the shoes of the mysterious crossbow toting Daryl Dixon, along with his brother Merle.  They both will be trying to undertake the daunting task of making their way through hordes of the undead to reach supposed safety in Atlanta.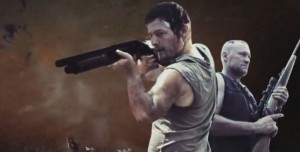 [pullquote_right]"The work AMC has done with the TV series has been amazing and we're ecstatic at the opportunity to be brought into the fold.  The studio is made up of fans of the show, and we think other fans will see that the situations and walkers featured in our game are every bit as gruesome and shocking as they are in the TV series – they look, move and react as expected with full authenticity – and they will surprise you.  The player's fight-or-flight survival instinct is constantly engaged.  'Flight' is usually a good bet." Drew Haworth, Creative Director atTerminal Reality. [/pullquote_right]
Terminal Reality is attempting to recreate the experience of surviving the undead that has made Walking Dead such a popular television series and having that players be able to enjoy the same thing on their video game consoles.  Players will be able forced to avoid the zombies which will be able to hunt players through their keen sense of sight, sound and smell.  While controlling Daryl, players will need to be careful while exploring new areas.  Once discovered, players will be forced to deal with an unstoppable horde of zombies.  As players will be presented  with the choice of staying and fighting off zombies risking a horrific death or taking a stealth approach to avoid zombies and keep themselves in tact.  Just like the television series, no place is truly safe for Daryl as he makes it through this post-apocalyptic world.
[pullquote_left]"Activision and Terminal Reality are working to deliver a powerful combination of a deep, engrossing story with intense action.  Daryl is such a unique and complex character and we're excited to offer fans the opportunity to experience this new video game." -Charlie Collier, AMC President[/pullquote_left]
Resources are scattered and scarce throughout The Walking Dead video game and players will be forced to ration supplies and be well aware of their food, medical needs, ammo, and other various goods that will play critical roles in the players survival in their journey to Atlanta.  This story makes players face the difficulties of a world overrun by the undead.  Players will be also be required to endure constant danger and show intellect in the key to their survival.  This could be a great zombie title as the games of this genre have become very popular in the last few years.  Incorporating an award-winning television series can only help create a game that will be sure to entertain players as they fight for their quest to survive.
This title is set to be released 2o13 for Xbox 360, Playstation 3 and Windows PC.  Players can learn more about this title by visiting www.TheWalkingDeadBegins.com
Source: Activision Press Release