Fatshark's post-apocalyptic dungeon crawler, Krater is looking better and better as we draw closer to its June 12 release date. Krater takes place in a future where civilization has grown around a large crater left by a massive bomb. "Free diggers" now venture into the seemingly neverending depths to plunder its riches and secrets. You take on the role of one  of these fortune hunters and can form and control a team of up to four characters culled from a range of five different classes…or you can team up with other players cooperatively online.
Although the world that has grown around the giant impact crater is an atypical lush green forest dotted with cottages housing the last vestiges of humanity, the main attraction is the depths of the crater itself. Exploring and plundering what the official site says is an "indefinite number of levels" opens up great possibilities for some addictive RPG gameplay, with a top down style reminiscient of games like Diablo, X-Com and Syndicate. The game is also set to include an extensive crafting system for weapons, items and  abilities, a persistent evolution of your team through their injuries and experience and a seemless blending of singleplayer and multiplayer gameplay.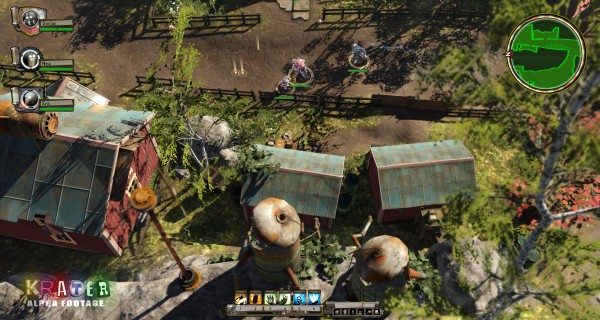 Krater is being developed by Fatshark and we'll be setting up a community playdate once the game releases for PC on June 14. Stay tuned for more details and for continuing coverage on this ambitious RPG. Also, feel free to check out the game's official site for more info.