Sony has announced that the latest Sly Cooper game will be released for both PlayStation 3 and the PS Vita, being the latest title to utilize the Cross-save feature. In other words, through the magic of cloud saving, you can save your game on your PS3 and pick up where you left on your Vita (or vice versa). Sly Cooper: Thieves in Time has players taking on the role of the master thief himself as well as a selection of distinct playable characters as they travel through time to save Sly's lineage of thieves. There are seven different worlds all representing different points in the historic Cooper legacy all culminating in "one epic Cooper Gang heist."
Gyro control support is also going to be included on the Vita version (and I personally love it when any game takes advantage of any of the extra bells and whistles of the Vita) as well as dual analog control. In addition to the traditional stealthy gameplay there are also unlockable costumes that grant Sly some additional abilities, including a suit of armor that can reflect projectiles and a Robin Hood outfit that allows him to create rope lines by firing arrows.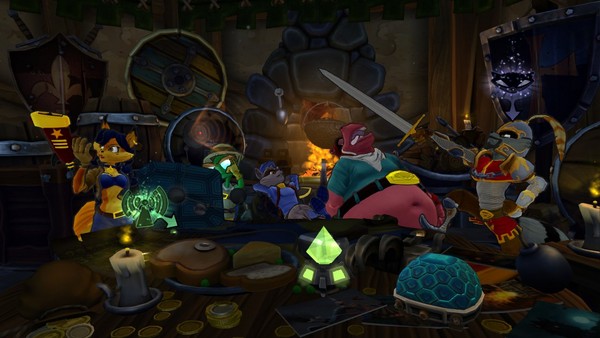 This latest adventure in the critically acclaimed series is set to be released later this year for both PS Vita and PS3. For those of you who own both systems, get ready to take your anthropomorphic thievery from the comfort your living room to anywhere on the go. Hopefully we'll get some more titles that offer this option, as its one of the most attractive features of the Vita. For more on this and other Vita and PS3 titles, keep checking back here on the Game Fanatics!