One of the problems I had with Awesomenauts was its lack of characters. However, Romino Games might just have two in the works.
According to various GameFAQs posts, we'll have two characters coming in the near future. Here's their reported sprite images: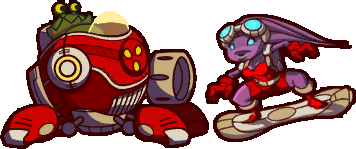 The second image fits the teaser we saw for the upcoming DLC character Romino Games showed off with their community address.
Here's the description for both characters:
Derpl Zork

Riding his combat walker onto the battlefield, comes Derpl Zork. The nephew of Blabl Zork, president of Zork industries, Derpl lacks his uncle's business-smarts. In fact he lacks any kind of smarts: his IQ is even rated under the level of plankton in the official galaxial IQ test. He loves hunting cats, though.

Officially classed as:
Medium speed, medium ranged, tank.
(Clunk's speed is classed as "slow", take that as you will.)

180 Base Health, 3.1 Movement

Trap: Deploy traps that will ensnare enemies, locking them in place. Nuke in siege mode.
Turret Mode: Transform into a static siege mode, enabling deadly weaponry.
Attack: Mew enemies into oblivion by shooting explosive holocats. Gatling fire in siege mode.
Jump: Derpl's walking desk has a temporary jet boost. Hold X (PS3) / A (360) to ascend!

Coco Nebulon

Hailing from a psyonic race on Okeanos, Coco is known as the cosmic waveblazer. Describes herself as hot & cool at the same time.
Excerpt from her spacelog: "It's just like, dude, I was cruisin' the galaxy, you know, in this totally tubular space-van, searching for the best cosmic waves man."

125 Base Health, 4.2 Movement

Blaze: Temporarily, Coco's hoverboard leaves a trail of electricity.
Ball Lightning: Shoot a ball lightning. Detonate it any time with a second press.
Attack: Channel Coco's psycho-electric powers through her unfortunate enemies. (this is apparently a melee attack)
Jump: Hoverboard jump, with a chance to do a front-flip. Tubular!
We've contacted Romino Games for a comment. Should they respond, we'll update this post.