A lot of news has come out about Halo 4, so here is a round-up of all the latest details you need to know about the highly anticipated game from 343 Industries.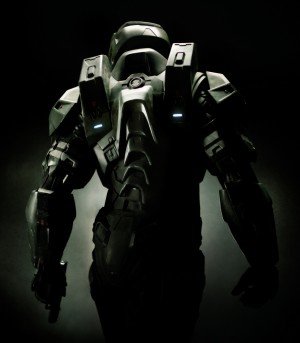 As part of the game's promotional campaign, which is slated to start sometime this fall, a series of five, 15-minute live-action Halo 4 webisodes will be released, titled Halo 4: Forward Unto Dawn. The series will introduce a new character and will tell the story of a young UNSC Cadet who meets Master Chief early on in the struggle between humanity and the Covenant. The legendary Spartan becomes the Cadet's inspiration as he rises through the ranks to serve as an officer aboard the UNSC Infinity. The series will setup the plot for the game's campaign story, which is the first of a new trilogy. Halo 4: Forward Unto Dawn will air on Machinima.com and on the Halo Waypoint. The image to the left is a teaser of what Master Chief will look like in the series.
Much to the dismay of many fans (including myself), Halo 4 will feature armor abilities, although 343 has stated that the implementation will be somewhat different. Word also broke that a new armor ability, "Prometheus Vision" (previously called "Forerunner Vision"), would be added. This new ability will give you a window of opportunity to see through walls and scope out your foe who may be in the next room over.
343 also revealed that, in an effort to evolve the series, you encounters with enemies will be a little different than you remembered from the previous trilogy. 343 used the Grunts as an example of an evolving enemy, "We're not recategorizing a species, upsetting an apple cart, or changing the canon. We're doing what we always do. We're layering detail, evolving the art, pushing the universe onwards and outwards. We're making change for holistic reasons, never for change's sake."
The company also addressed concerns that many fans had about the game's new engine, after many fans claimed that the game looked "sub-HD" in the released video content. Frank O'Connor, Halo's development director, confirmed that the game will be running at native 720p. O'Connor also added,  "Almost every single system, audio, rendering, lighting, you name it, has been either radically overhauled or rewritten from the ground up. At this point saying it's based on a previous version of the engine basically speaks to a few pieces of code."
With E3 just weeks away, we're expecting to see a lot more news continue to roll out. Keep checking back to The Game Fanatics for all the latest details on the Halo franchise.