Mobile gaming has indeed become a developing enterprise with some many companies making apps & games of their popular titles.  Popular indie game developers are now trying the same thing.  Team Meat has announced that they are currently making Super Meat Boy: The Game, which is a touch based mobile remake of the popular downloadable title Super Meat Boy.
Team Meat is assuring fans that since this is a new field for them that they want to make this mobile game right.  This title is still in the early stages of development but they are examining mobile gaming to see what the good and bad parts about it, and apply all the good stuff to their game.  Being indie game developers, they are stressing that they want this to be a value to their fans, since a lot of mobile games of more popular titles can be considered a waste of time.  They seem to really be taking the mobile game player seriously.
They are stressing that they want to capture a feature length title with sharp controls without any cheap ways to make the players shell out extra money to play.  This is great news since the 1st Super Meat Boy  was a highly acclaimed title that was compared to platfoming classics like Super Mario Bros or Ghosts'n Goblins.
They left players with a final tease of a chapter screen shot: The Green Hills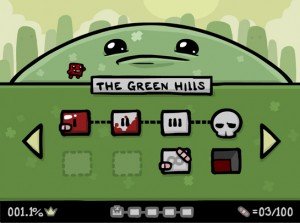 There is also reassurance that there will not only be a bite sized title, since this shot only has 8 level pads.  Team Meat wants fans to know that the content of Super Meat Boy: The Game will have enough content to rival the original, but it will be it's own different ways, and will still feature dark worlds.  So while this is a vague update.
On a completely different note, while still being related to Super Meat Boy, Team Meat is now selling selling toys in their online store.  These toys can be purchased separately or in a full set that includes stickers and a signed sketch.  The full set includes Bandage girl, Meat Boy, and a big bloody saw.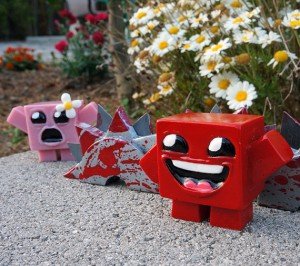 These are all designed, produced and hand painted by another indie artist.  So all proceeds from these purchases go to someone else pursing their dream.
These are both very fun bits of news from an upcoming indie developer.  Toys and mobile games are things excite nerds like myself anyway.
We will keep you  updated on anything else we find out about Team Meat's newest project.
Source: Team Meat