I summoned a new set of zombie dogs as my templar companion kept aggro. As I kept a safe distance, I spammed spell after spell, ensuring my hellish foes would meet their deserved death.
An hour or so later, I did the same thing, only getting up close and personal, using my fists and legs to deliver swift justice. Regardless of how I grinded through each dungeon, I enjoyed it. This is the magic of Diablo III.
The wait for Diablo III, the latest entry in the popular Blizzard dungeon grinding franchise, has been almost unbearable for some. Heck, RTS fans can certainly relate, as they waited just as long for StarCraft II to launch. In just a few short weeks, that wait will finally be over and the masses will be able to see just how much fun the latest entry in the Diablo series is. As the beta comes to a close, it's time to recap our impressions and highlights.
The game's formula hasn't changed: you'll move across randomly generated dungeons, using mouse clicks to guide your character, and spamming the mouse to use your primary abilities via  left click and right click. While the gameplay may seem simple, there's actually a certain amount of depth to explore within each of the game's five classes that can provide a unique experience depending on how you level up your character. Everyone will have access to the same amount of skills and runes, which tweak skills in various ways, but you'll only be able to have one rune up per skill at a time, as well as you'll only have one skill mapped to a mouse click per time, so you'll need to have your plan of attack set up ahead of time. Sure, you can change skills and runes on the fly, but during moments of intense combat, you may not find the time to swap skills.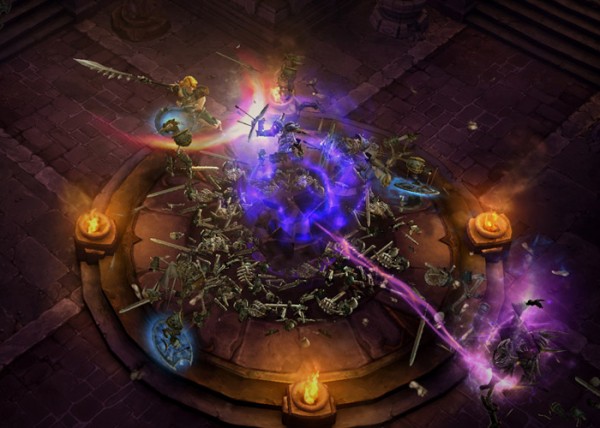 In what may come as a somewhat surprising move, however, is that the game seems to be wanting to deliver a more narrative experience. The impression I have from the beta is that Blizzard has a story they want to tell. Now, yes, they also had one in Diablo II, but to me, it always took a back seat to the game's dungeon crawling. That doesn't seem to be the case in Diablo III; as I was headed towards my encounter with the Skeleton King Leoric, I was offered a brief glimpse of his past, and had a front row seat for a bit of back and forth between my templar companion and Leoric himself. There's no denying the amount of lore the Diablo franchise has, and it seems that Blizzard wants to make the story just as important as the gameplay.
Diablo III will offer five different classes at launch: Barbarian, Demon Hunter, Monk, Wizard, and Witch Doctor. The Barbarian is, essentially, the same class we played in back in Diablo II, though the remaining four classes offer new experiences that are either inspired by classic Diablo classes, or are new altogether. Surprisingly, I didn't necessarily enjoy my time with the Demon Hunter; something about him seemed a bit off, especially compared to the in your face action the Monk offers, my favorite of the five during my time with the beta. Perhaps the class was a bit too passive for my tastes, but that's not to say I don't enjoy passive classes, as playing the Witch Doctor was an absolute blast, kiting enemies with my aoe slow/dot and auto attacking them down with poison darts. Maybe I just expected more from the Demon Hunter, though it'll be nice not to play a class everyone else is.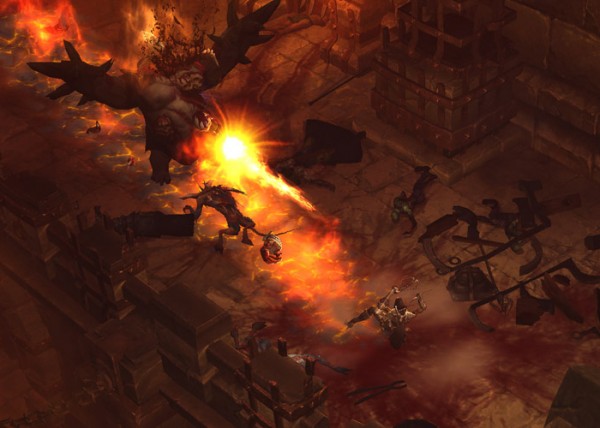 Visually, Blizzard has kept the tradition view point seen in the franchise while updating the graphics to incorporate 3D spaces. While this won't be the greatest looking game on your computer, the visuals provide a dark, moody feel to them, allowing your foes to come at you from behind tombs or crawling up walls. It gives off a sense of fear and terror, one that will surely be magnified when played on the game's harder difficulties. Speaking of which, much has been talked about the game's Inferno mode, which is so difficult Blizzard's playtesters haven't beaten it. Combine that with the game's hardcore mode, where if you die just once, your character is gone forever, and you'll have quite the challenge on your hands, something that has the most ardent Diablo fans jumping at the bits.
The bottom line is this: Diablo III doesn't reinvent the wheel in terms of core gameplay, but the removal of talent trees allow players to avoid fumbling around with choosing skill A or skill B to lock themselves into and instead can play the game how they'd like. When you combine that with the addicting nature of Diablo's dungeon crawling and the chance to play with three friends in a game you've been waiting a decade for, I'll be shocked if you don't enjoy your time with the title when it finally releases in two weeks.